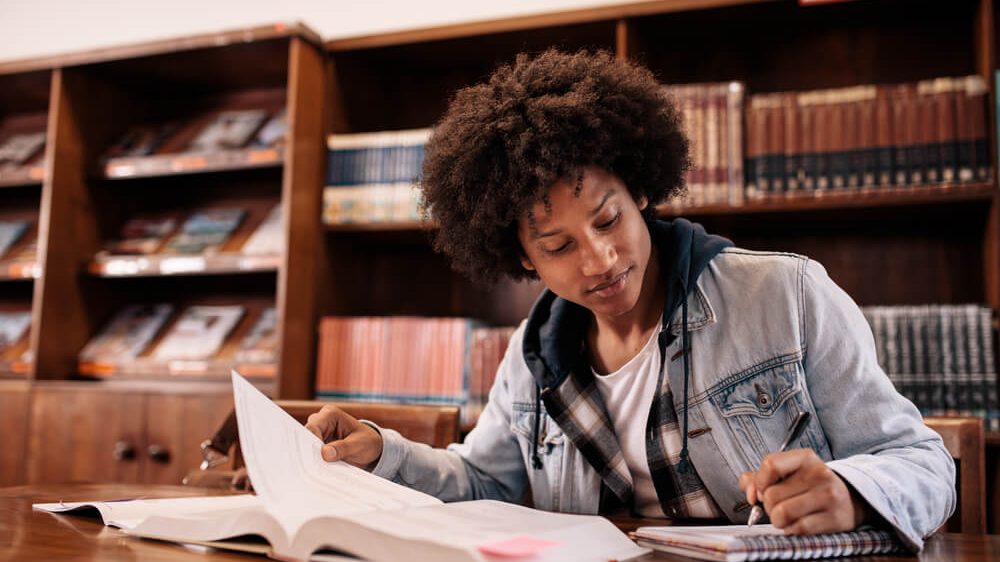 By Will Geiger
Updated: March 31st, 2022
Historically, access higher education has not always been equal. Many groups, including African American and Black students, have been left out of educational opportunities.
Because of this, many colleges and scholarships aim to support African American students as they pay for college. These scholarships include specific scholarships for African American women, full ride scholarships, and scholarships generally for students from minority backgrounds.
This post will cover everything including:
Jump ahead or keep on reading to learn more about these top scholarships for black students!
Top African American scholarships for 2022:
$1,000 Andrew Perez Mental Illness/Suicidal Awareness Education Scholarship
Eligibility: BIPOC high school or undergraduate students who struggle with mental health
Amount: $1,000
Deadline: April 14, 2022
$1,000 Black Students in STEM Scholarship Fund
Eligibility: African American high school seniors with a 2.5 GPA or above planning to study STEM at HBCUs
Amount: $1,000
Deadline: June 30, 2022
$1,000 Michigan Future of the Arts Scholarship
Eligibility: Michigan BIPOC high school seniors or undergraduate students pursuing art or design
Amount: $1,000
Deadline: May 19, 2022
$500 Chang Heaton Scholarship for Music Excellence
Eligibility: First-generation, BIPOC undergraduate or graduate students pursuing theater or music degrees
Amount: $500 (five $500 scholarships are awarded!)
Deadline: June 25, 2022
Blacks at Microsoft Scholarships
Eligibility: High school seniors who identify as African American
Amount: $20,000
Deadline: March 15, 2022
KnowBe4 Scholarship for Black Americans in Cybersecurity
Eligibility: African American or Black students who will be an undergraduate or graduate student pursuing a degree in cybersecurity or a related field.
Amount: Up to $10,000
Deadline: April 18, 2022
National Association of Negro Business and Professional Women's Club Scholarships
Eligibility: There are a variety of scholarships available for college bound high school seniors, women over age 35, and single women
Amount: Varies
Deadline: April 20, 2022
Frederick Douglass Bicentennial Scholarship Program
Eligibility: Rising seniors with documented financial need who attend an accredited HBCU with a minimum GPA of 3.5
Amount: $10,000 (2 scholarships are awarded!)
Deadline: November 18, 2022
APF Queen-Nellie Evans Scholarship
Eligibility: Minority graduate students committed to improving marginalized communities
Amount: $4,000
Deadline: January 21, 2023
Thurgood Marshall College Fund Scholarships
Eligibility: Incoming/full-time college students at one of the Thurgood Marshall College Fund's (TMCF) 47 publicly-supported Historically Black Colleges and Universities
Amount: Up to $10,000
Deadline: Varies from January – February / Spring Scholarships: August – October
Eligibility: African American/person of color high school senior, undergraduate, or graduate students with a 3.0 or above GPA. Must be a member of the NAACP
Amount: Varies
Deadline: Varies
Tips for African American students applying for scholarships
What you should know about HBCUs
HBCUs have historically been extremely important in the education of Black students. For many years, they were the only universities that admitted Black students. Fortunately, this is no longer true. However, they continue to provide unique benefits for Black students across the country. Here is a list of some of the highest-rated HBCUs:
| | | | | |
| --- | --- | --- | --- | --- |
| School | Location | Enrollment | Tuition | Acceptance Rate |
| Spelman College | Atlanta, GA | 2,120 | $29,972 | 43.4% |
| Howard University | Washington, DC | 6,526 | $28,440 | 36.1% |
| Xavier University of Louisiana | New Orleans, LA | 2,530 | $25,947 | 60% |
| Tuskegee University | Tuskegee, AL | 2,394 | $22,679 | 51.7% |
| Hampton University | Hampton, VA | 3,714 | $29,287 | 36% |
| Morehouse College | Atlanta, GA | 2,238 | $28,847 | 99.8% |
There are many scholarship opportunities specifically for Black students attending an HBCU. These include the Thurgood Marshall College Fund and the National Black College Alumni Hall of Fame General Scholarship. We also have a full list of HBCU scholarships to check out.
Frequently asked questions about scholarships for Black students
Are there scholarships specifically for Black women?
The National Association of Negro Business and Professional Women's Clubs offers several scholarships specifically for Black women. If you are looking for other scholarships for women, we've got you covered with our top scholarships for women list that's updated each month!
Do I qualify for scholarships for Black students if I am multiracial?
Yes, you do! Though they may exist, we have never seen a scholarship that requires 100% Black heritage. And you can apply to scholarship opportunities meant for any race or heritage you identify with. So, if you are Black and Hispanic, you can apply to scholarships targeted towards either community.
What are the advantages of HBCUs?
Though every student's needs are different, HBCUs can be a great option for some Black students. Studies have shown higher levels of engagement and higher graduation rates among Black students at HBCUs. Additionally, they often have more institutional aid set aside for Black students.
Summary of scholarships for Black students
Upcoming scholarships for Black students
Center for Advancing Opportunity Undergraduate Research Scholarship
Eligibility: Open to students who will be sophomores, juniors, or seniors at a Historically Black College or University (HBCU)
Amount: up to $7,500
EPP/MSI Undergraduate Scholarship Program
Eligibility:Rising junior undergraduate students majoring in Science, Technology, Engineering and Mathematics (STEM)
Amount: $45,000
Opens: September 1, 2022
Eligibility: High school seniors of African-American, American Indian/Alaska Native, Asian & Pacific Islander American, and/or Hispanic American who are Pell-eligible
Amount: Full funding for all college costs not covered by FA and family contribution
Opens: July 15, 2022
Eligibility: Open to all high school seniors and college students who excel in technology. Historically underrepresented groups, such as Black/African American, Hispanic/Latinx, American Indian, or Native Hawaiian/Pacific Islander students are especially encouraged to apply
Amount: $5,000 to $10,000
Jackie Robinson Foundation Scholarship
Eligibility: Open to high school seniors from minority backgrounds.
Amount: up to $30,000 over 4 years
Men of Courage Barbershop Challenge
Eligibility: African American men over the age of 18
Amount: $10,000 for first place and $5,000 for runner-up
Opens: July 1, 2022
Eligibility: African American students with demonstrated financial aid who are high school seniors.
Amount: up to $10,000 per year
TMCF | McDonald's Black and Positively Golden Scholarship
Eligibility: Enrolled full-time as a freshman, sophomore, junior or senior at Thurgood Marshall College Fund Member-Schools during the 2022-2023 academic school year.
Amount: $15,000
Eligibility: Open to undergraduate and graduate students attending a UNCF member college
Amount: $5,000
Opens: June 2022
Related scholarship categories