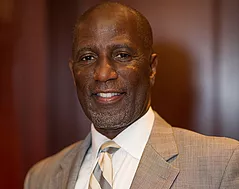 Leonard Webb - Publisher & CEO
Our Featured Story  "Professional Basketball Comes to Connecticut" Beginning next spring, Connecticut residents won't need to travel for professional basketball games, with a professional men's basketball team set to call the state its home for the first time in over two decades.  The Connecticut Cobras will be a part of "The Basketball League (TBL), a national professional basketball league, and has its schedule set to begin in March 2022" Cobras Team Market Owner Anthony Hill said. Hill is in prestigious company. Former NBA players Steve Francis (Houston), Jerome Williams (Las Vegas) and Kendrick Perkins (Beaumont, Texas) also have ownership stakes in TBL franchises.  
The Lead Story: Broadway is Back, Shubert Theatre in New Haven Diversity Team Leads the Way" Under the leadership of VP & Executive Director Anthony McDonald and his diverse staff, the Shubert is ready with a full slate of amazing shows that will attract the entire family, trust me there is something in it for everyone!  With shows like, the Harlem Dance Theatre, Hip Hop Nutcracker, Mystery Science Theatre 3000 and A Charlie Brown Christmas (who doesn't like Charlie Brown)  just to name a few, you will not be disappointed.  These are must see shows, complete with a full Broadway production, colorful lights, multiple scene changes, full orchestra, laughter with like-minded folks, great seats all the way around, this truly is an experience like no other!
Under Trending: "10 Years of Ethnic Online in Photos and Pics"   New England Gala's, Fashion Shows, Derby Fundraisers, National Urban League, Moorhouse on the Vineyard, Quarterly Magazine Receptions, Career Fairs, Connecticut Tennis Open and so much more!  Check out Ethnic Online over the years!  See who's out an about……will you be at the next one?
The Arts & Events Section  With the pandemic restrictions slowly being lifted, Arts & Events are slowly making their way back.  Scullers Jazz Club, The Lyman Center, The Shubert Theatre and International Festival of Arts & Ideas are leading the way!
ALSO INSIDE:
"October is Breast Cancer Awareness Month for MEN Also"  Did you know breast cancer is the most commonly diagnosed cancer among Black women? It is also the second most common cause of death among Black women, surpassed only by lung cancer. The racial disparity is largely due to more advanced stage at diagnosis (attributed to limited access to high-quality preventative healthcare), higher prevalence of obesity, comorbidities, and unfavorable tumor characteristics, such as triple negative breast cancers, as well as access and adherence to high-quality cancer treatments.
"Top 10 Finance Tips for African Americans".  Nationwide, when it comes to wealth and personal finance success, Black Americans generally have less. Census data from 2019 shows that the median Black household income is 33% lower than the overall median household income and the Black homeownership rate is 22 percentage points lower than the general homeownership rate. Data on wealth accumulation depicts even starker disparities: Black families' net worth is 87% lower than that of white families and 33% lower than that of Hispanic families, according to the Federal Reserve's 2019 Survey of Consumer Finances.
Thank you for reading Ethnic Online and as always, let us know your thoughts!
Sincerely,
Leonard Webb
Publisher & CEO