*The New York Times names New Haven as one of its 52 places to visit in 2023.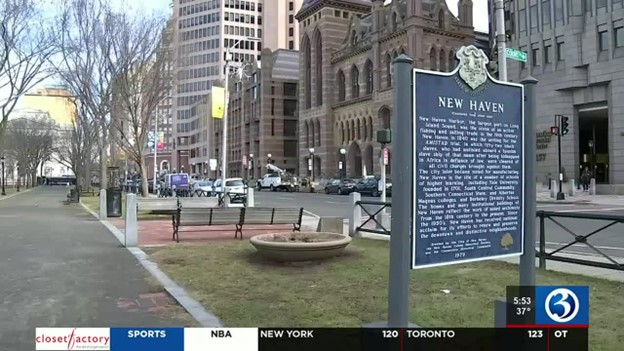 New Haven on the New York Times' list of best cities to visit
By Matt McFarland and Evan Sobol
Published: Jan. 16, 2023 at 7:19 PM EST
NEW HAVEN, CT (WFSB) – London, Madrid, Istanbul, and New Haven?
The Elm City is making headlines after making a recent list from The New York Times, naming it as one of its 52 places to visit in 2023.
It's a nice honor for the Elm City, getting named alongside some world class cities and some trendy spots in the United States.
Sure, it's known all over the world as being the home of Yale, and a place where people come from near and far for its famous thin crust pizza.
But a recent spotlight on New Haven is highlighting so much more.
"I think it feels like good, New Haven is finally getting its due," said Jacqueline Pagano of New Haven.
Jacqueline Pagano and Corey Larkin have called the Elm City home the last four years.
So, the fact that The New York Times named New Haven as one of its 52 places to go in 2023?
"I think it's not too surprising," said Corey.
Checking in at number 50 on the list, the short write up describes:
Connecticut's third-largest City is a historic, mostly walkable and bike able seaside town with distinctive neighborhoods, an encyclopedic collection of great American architecture, a thriving cultural life and one of the best food scenes in the country for a city it's size.
"This is a big, big deal. Fifty-two places in the world, let's be clear, 52 places in the world that are awesome to visit, and New Haven is one of them," said New Haven Mayor Justin Elicker.
With the focus on art, food, neighborhoods and culture, Elicker said the newspaper is just scratching the surface on what those who call this place home experience every day.
"The New York Times figured out what we all know in New Haven, that this is an incredible city, everything from pizza to soul food. We've got so much to offer, the diversity of the community and it's nice to be recognized," said Elicker.
The article mentions checking into the Hotel Marcel, the Old Pirelli building on Long Wharf which was recently turned into the first completely solar powered, energy neutral hotel in the country.
It gives a shoutout to out NXTHVN, described as a cutting-edge community focused art center. It was founded four years ago in two abandoned factory buildings in the Dixwell neighborhood, and home to a vibrant African American artists' community.
New Haven is known for its restaurants, having something for everyone.
The write up insists you treat yourself to a great meal, mentioning Villa Lulu, a newer Italian spot-on College Street.
"It has well known locations as far as restaurants, the Green is a highlight, well rounded, hospitality people," said Lori Snell Savage of Norwalk.
To see the complete list, click here.
Copyright 2023 WFSB. All rights reserved.

*Ethnic Online Editors Notes:
Even though this article came out in January of this year, we thought it was important to repurpose this article that was submitted by WFSB. Being a Boston transplant for the past 13 years, I was blown away to see New Haven on the list of the Top 52 places to visit in the WORLD according to the NY Times article. I would add that New Haven is a manageable city, nestled right in the middle of Boston & NY with unique venues that attract visitors from all over the state, country, and parts of the world. I must give a special Ethnic Online shout out to a few of my personal favorites that make New Haven special: