Ethnic GEM, Fallon Thomas
TITLE: Community Liaison for the New Haven Hiring Initiative
COMPANY: Yale University
STATE: New Haven, CT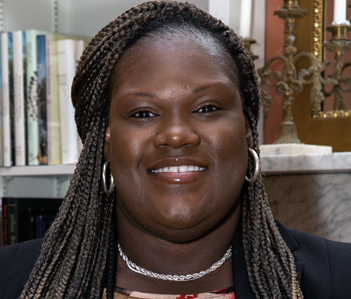 Submitted by Leonard Webb
Fallon Thomas is a native of New Haven, CT, where she attended New Haven Public Schools. She received a Bachelor of Arts in History from Temple University and a Master of Arts in American History, with a concentration in the African American experience and a minor in Public History from Loyola University Chicago.
She is the Community Liaison for the New Haven Hiring Initiative at Yale University. She has been an employee of Yale University for eight years. In her current role, she engages and educates the local community around Yale University employment opportunities and manages the Yale New Haven Promise Internship Program. She has over 14 years of managerial experience in higher education auxiliary operations. With a passion for higher education and human resources, Fallon has dedicated herself to promoting the academic process, encouraging professional development, and advocating for employment. She conducts workshops on a range of topics, from job searching to successful networking. Fallon supports a shared vision for a strong university and New Haven partnership through the creation of a community employment readiness program and many volunteer roles. She has Co-Chaired the Yale African American Affinity Group, which promotes the professional, social, and cultural development of Yale Staff. Inspired by her journey to Yale University, Fallon prioritizes educating potential candidates on all levels of employment at the university, ensuring that they pursue opportunities in alignment with their education and experience.
As a New Haven resident, Fallon is very passionate about her community. A self-proclaimed Community Connector, she has used her networking skills to connect people and organizations to resources to strengthen the community which she loves. She participates in civic organizations such as The New Haven Club of the National Association of Business and Professional Women's Clubs Inc., where she is the 1st Vice President, Sheba Chapter #1 Order of the Eastern Stars PHA, and the Waterbury, CT Chapter of The Links, Inc. Fallon is a dedicated mentor with Phenomenal I AM, Inc. She serves as a board member for New Haven Reads, Shubert New Haven, and the Boys and Girls Clubs of Greater New Haven, where she serves as the Governance Chair.
Fallon prides herself on a strong work ethic, anchored in integrity and loyalty. Her community engagement is inspired by the Sankofa theory, success in the future is shaped by an examination of the past. As a trained social and cultural historian, she understands the importance of progressive community resources in urban communities.
When asked about her motivation Fallon begins by saying "while in graduate school, I was employed at my university. I had a great undergraduate experience and wanted to understand the inner workings of how universities operate. I decided to forgo a career in academia and focus on higher education operational administration. While I started in auxiliary services, managing parking and transportation, I transitioned into administrative support and Human Resources."
It takes a village to raise a child, and Fallon quickly credits several folks as her mentors.
"Jeanette Morrison, Ward 22 Alderwoman City of New Haven. Growing up, she showed me a world outside of New Haven and sparked my interest in attending college by taking me to her alma mater, Morgan State University. Upon my return to New Haven, she encouraged my interest in civic engagement. I volunteered for her first campaign as Alder in 2012. Fallon mentioned, "Dana Royal, Director, Campus Business Services Center, Illinois Institute of Technology. She was my first manager in a professional organization that took the opportunity to mentor and groom me for success, especially as a woman of color. Dana's mentorship impacted my work ethic."
In addition to working at Yale and supporting her community, you can find Fallon actively involved in the
New Haven Club of the National Association of Business and Professional Women's Clubs, Inc. serving as Vice President, Waterbury, CT Chapter of The Links, Inc., Sheba Chapter #1 Order of the Eastern Stars PHA and a host of different boards, civic and affinity group planning committees.
Traveling, sightseeing, taking cultural tours, attending museums and aquariums along with watching the Patriots and the Knicks play are just a few hobbies that Fallon enjoys when not working hard or dedicating her time to various organizations and boards.
Director of Community Engagement, leading innovative programs which bring access and awareness to the local community, supporting workforce development, and access to internships and early career pathways for young adults are goals of Fallon over the next 5 years!
If you know Fallon Thomas, be sure to congratulate her on being an Ethnic GEM!