Ethnic GEM, Adriana Dawson
TITLE: Director, Community Engagement
State Government Affairs

COMPANY: Verizon
STATE: Rhode Island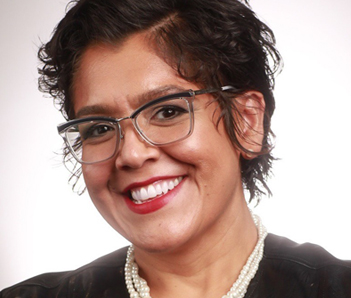 Written by Senior Writer Wesley Webb
"I'm in a season of YES and BRING IT ON!"
– Adriana Dawson
It's been over three years since Adriana Dawson made a sector transition and became the Director of Community Engagement for global fortune 15 technology, communications, information, and entertainment company, Verizon. Most recently Dawson has leveraged her business acumen and cultural fluency to support and influence other areas of the enterprise, which drives approximately $136B in revenue. In addition to overseeing and scaling Verizon's local engagement and social impact network across her markets she also serves as a Global ERG leader for SOMOS – an Employee Resource Group (ERG) amplifying the voice and volunteer engagement of Verizon's 5K+ Hispanic/Latinx employees.
As a Colombian-American, and first generation professional, Adriana believes her social and human impact work is more like a calling than a career choice. "I grew up in a family that has always been in service to the community. As a young child I assisted with translations, helped coordinate appointments, and attended community gatherings." Prior to joining Verizon, Adriana's career path led her to successfully contributing across five different industry sectors. With both a B.A. and M.A. in communication studies, her first professional role was in corporate communications in the health care industry, Beth Israel Deaconess Medical Center. Based on the community and patient language needs she raised, a new role was created for her leading Multicultural Marketing & Communications. The Center, a premier teaching hospital located in Boston, treats patients from all over the world. Here is where Adriana embarked on her foundational experiences of helping her parents with informal social work and applied the same credo: of putting people first. Her time at Beth Israel consisted of launching a patient translator program, community health outreach efforts, and patient information pieces in multiple languages. I come from very humble beginnings, but I grew up rich; rich and abundant in love, optimism, and a joy for life," says Dawson, and thanks her parents for "their selflessness and sacrifice," by acknowledging them as her core mentors.
Adriana roles in leadership are quite impressive. Dawson's extensive resume includes appointed the first woman State Director for the Rhode Island Small Business Development Center where she was recognized nationally for the innovative approach, she spearheaded to support minority and women-owned businesses. Currently, Adriana serves on a myriad of boards dedicated to improving the economic self-sufficiency of individuals and families. The long list of awards and honorable recognitions Adriana has received is quite impressive. These include Rhode Island PBN 40Under40, America's SBDC National State Star, YWCA Woman of Achievement, Verizon Latinx Champion, 2022 Empowering Latin@s to follow on LinkedIn; and most recently, Girl Scouts of Southeastern New England-Leading Women of Distinction.
It's evident that Adriana's application of combining her grassroots and lived foundation in social and human impact, with her business savvy, should take global notice. She has masterfully demonstrated her ability to weave and create a legacy of impact at the intersection of purpose and profit. Adriana is not done yet. While highly sought after and recognized over the course of her 20+ year career, Dawson says, "I see myself continuing to lean into my curiosity and growth. I'm in a season of YES and BRING IT ON!"
Thank you, Adriana Dawson, for all that you have done and continue to do for underestimated and historically overlooked communities.