As it played out the weekend, the jazz-kissed, joyful gala included music from ConnCAT teacher and musician William Fluker, jazz legend Hank Bolden, musician Lisa Bellamy-Fluker, and members of the William Fluker All-Star Jazz Band. It became a celebration of hundreds of students and families, as well as a future for the organization that looks bright.
Awardees included chef (and former New Heavener) Eric Adjepong, Arvinas Founder Craig Crews, Fairfield County Community Foundation President and CEO Juanita T. James, American Eagle Financial Credit Union's Vice President of Inclusion and Diversity LaKisha Jordan, and medical trailblazer Ena Williams, who is the Senior Vice President and Chief Nursing Officer at Yale New Haven Hospital. By the time Williams' spoke, delivering the last acceptance speech of the night, there were very few dry eyes in the room.
"Really, what I'm most proud of is that I have a team that has stayed together through all we've experienced," said ConnCAT President and Chief Executive Officer (CEO) Genevive Walker, a former Hamden Public Schools teacher who stepped into that position in February 2021, after serving for years as chief operating officer (COO). "Tonight, I am encouraged and invigorated. We've seen hard resilience."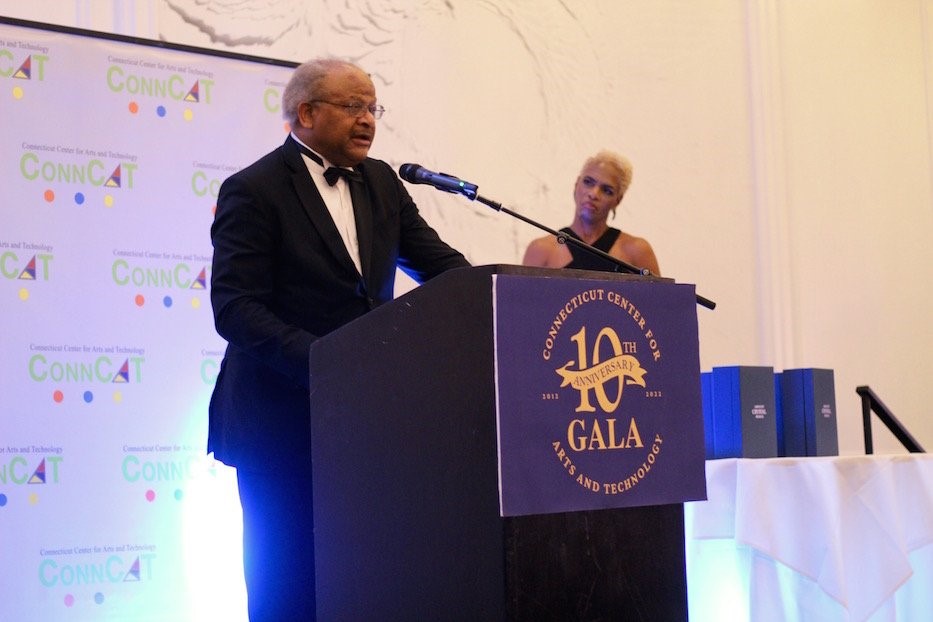 Carlton Highsmith: "It takes a very special citizenry to embrace the idea that everyone deserves an equal opportunity in life," he said.
The organization represents a success story over a decade in the making. Based on Bill Strickland's vision for the Bidwell Training Center in Pittsburgh, ConnCAT was born in 2012 as a job training center for unemployed and underemployed New Heavener's. At the time, the crew behind it included Strickland, Carlton Highsmith, and President and CEO Erik Clemons, a former director of LEAP. They started with 100 students, a Harlem Renaissance-themed summer camp and programs in phlebotomy and medical billing and coding.
In the years since, ConnCAT has grown its staff, added a thriving culinary arts program, industrial kitchen, and catering operation and cafe, robust summer and after-school programming, youth cooking classes, a teaching garden and urban farmer to tend it (New Heavener Dishaun Harris, more commonly known as Farmer D), and most recently a remote learning hub meant to get students through the first two years of the Covid-19 pandemic.
Walker said that its mission is simple: Turning the question "why me?" into "why not me?" Or in the words of the larger Bidwell Manchester model, making the impossible possible.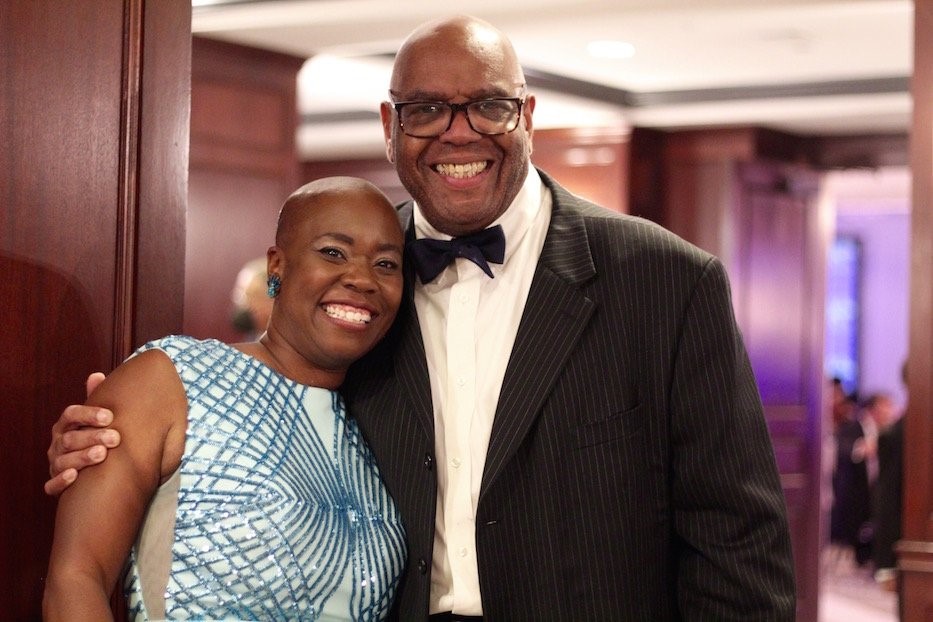 "And we realized, we fight, or we flee. So, we fought."
During its first 10 years, ConnCAT has weathered an economic recession, profound and unexpected losses to the ConnCAT family, the parallel pandemics of Covid-19 and racism and a significant leadership transition. When New Haven began shutting down in March 2020, ConnCAT was forced to temporarily close its doors. Five months later, it reopened with new pandemic protocols in pace to keep students learning in its programs as the word turned on its head. Sunday, Walker said it became a defining moment for the organization.
"We had a moment of trying to figure out what would happen," she said, her blue earrings and sequined gown glinting in the hotel's light. "We realized, we fight, or we flee. So, we fought."
In many ways, the organization has been fighting since—for the social and emotional health of its students and their families, for its financial and physical growth, and for thriving Black futures in a world where they sometimes feel impossible.
Shortly before the pandemic began, ConnCAT announced plans for Connecticut Community Outreach Revitalization Program (ConnCORP), a for-profit subsidiary of ConnCAT that had begun buying property in Dixwell. In January of 2020, it unveiled a $200 million plan for the redevelopment of Dixwell Plaza, a project now called ConnCAT Place, which will see the mid-century shopping strip torn down and replaced by a mix of apartments, shops, and cultural venues.
In the two and a half years since, ConnCORP named Clemons its inaugural CEO and has officially planted its flag. It also runs The Lab at ConnCORP at 496 Newhall St. in Hamden.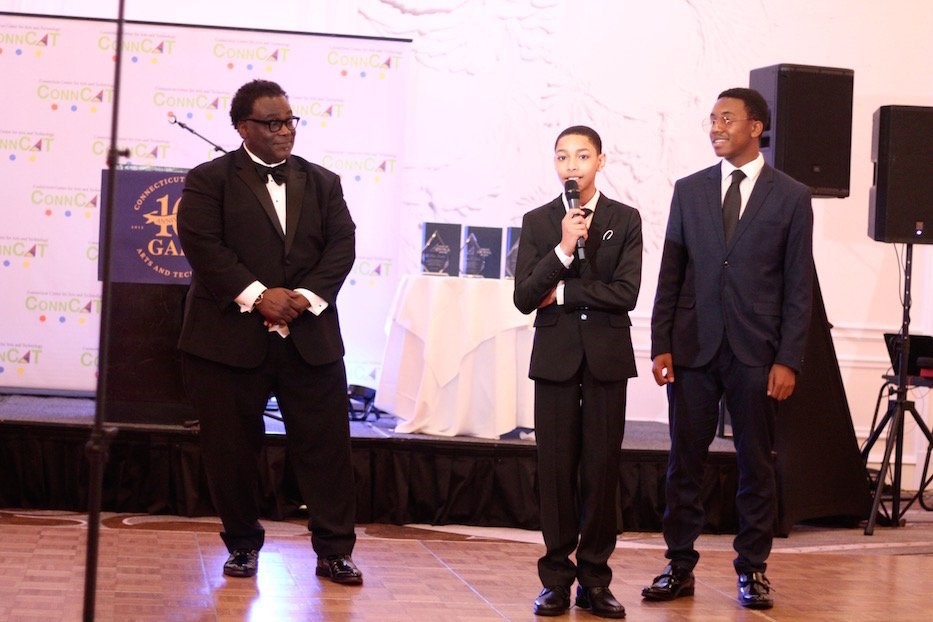 Co-emcee Steve Driffin with students Christian Edwards and Mekhi Banks. Banks announced to resounding applause that he will be attending Berklee College of Music next year.
Throughout the night, staff, board members, and fans alike heaped praise not only on awardees, but on the accomplishments of ConnCAT's school-aged and adult students. Highsmith, who currently serves as ConnCAT's Board Chair, listed the six "essential ingredients" that go into making ConnCAT the institution that it is.
They include the people of New Haven— "it takes a very special citizenry to embrace the idea that everyone deserves an equal opportunity in life," he said—the team, board, and funders, a healthy dose of humility and commitment, and a belief in the urgency and immediacy of the work that ConnCAT does. He also made time to thank the Community Foundation for Greater New Haven, one of the earliest supporters of ConnCAT's work.
When he started building ConnCAT with Clemons and Strickland, "there was so much I did not know," he said. "I didn't even know what questions to ask." Along the way, he discovered that "excellence is not a destination, it is a journey."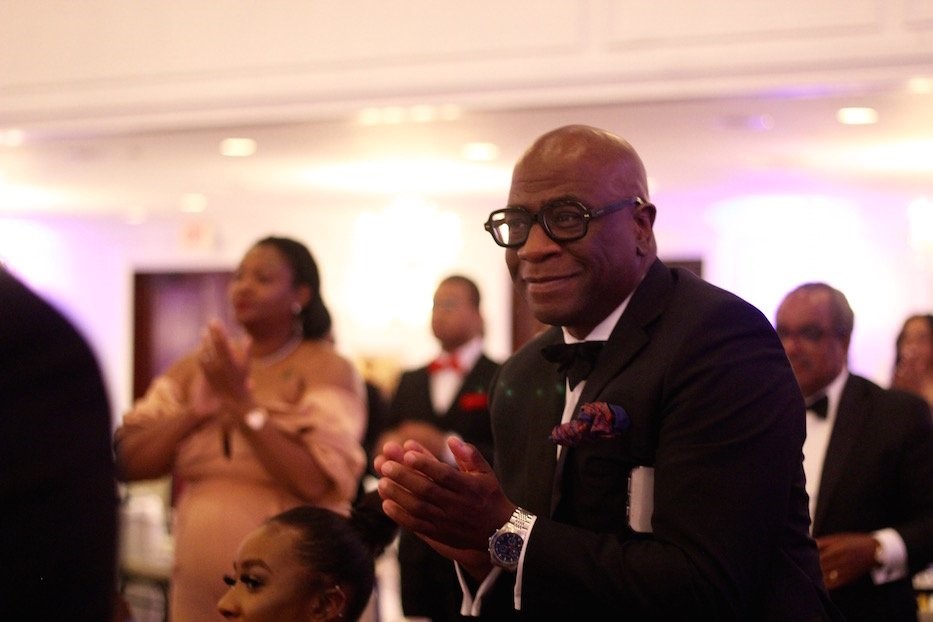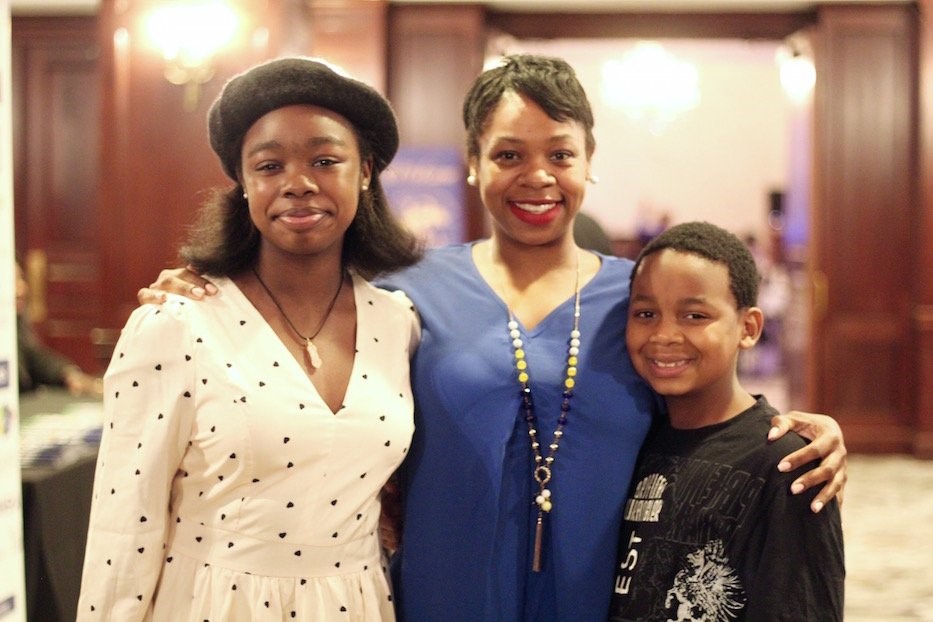 Top: Erik Clemons. Bottom: Tristan Vines-Johnson with her mom, Trish Johnson, and younger brother Kayden.
In a series of video testimonials, several students and graduates recalled how ConnCAT had been life altering for them. Whether it was in the kitchen or in the phlebotomy lab, each described the programming as transformative. One, whose whole smile lit up the screen, recalled learning about ConnCAT from friends who took the same bus, and got off at the organization's 4 Science Park hub. He checked the program out—and found that it was the key to steady employment.
Co-emcee Pierre Goubourn, now director of adult programs and co-director of operations, is also one of those students. Sunday, he recalled graduating in June of 2012—a decade to the date of the gala, more or less—with new skills in medical billing and coding. He praised "the vision, the audacity" of the organization, which saw in him a skill set that he once did not see in himself.
"Ten years ago, no one knew what to expect from this new organization called the Connecticut Center for Arts & Technology," he said.
"I Have a Village Around Me"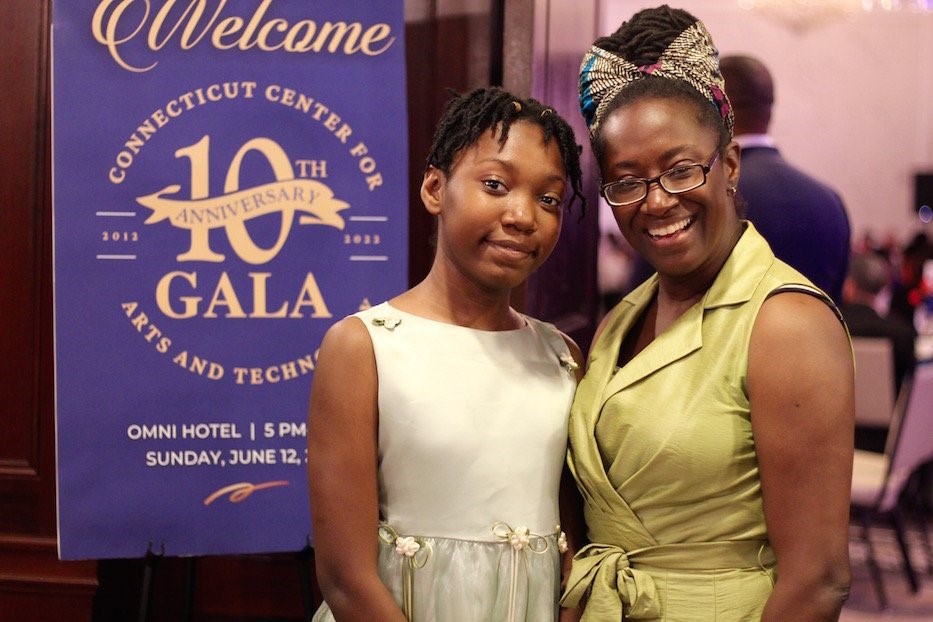 Savannah Tamia Nash and her mom, Shanequa Sturgis-Nash.
Nowhere, perhaps, was that clearer than in performances from youth who have thrived in ConnCAT's growing summer and after-school programs. Introduced by co-emcee and poet, playwright, director of youth programs and co-director of operations Steve Driffin, young people demonstrated how transformative ConnCAT has been for them as they danced, acted, sang and played their way onto the dance floor.
When Savannah Tamia Nash took the floor with a monologue from August Wilson's The Piano Lesson, she transformed into a fierce Bernice, with a wisdom far beyond her 11 years. "​​You ain't taking that piano out of my house," she declared, and the audience was all ears. "Look at this piano. Look at it. Mama Ola polished this piano with her tears for seventeen years."
As the room watched with bated breath, she dug deeply into the monologue, pulling out Bernice's fierce, biting anger as an invisible Boy Willie began to remove the piano from the house. In her words was the explosive, simmering frustration of every person who has been asked, impossibly, to forget or erase a member of their family to simply turn a profit.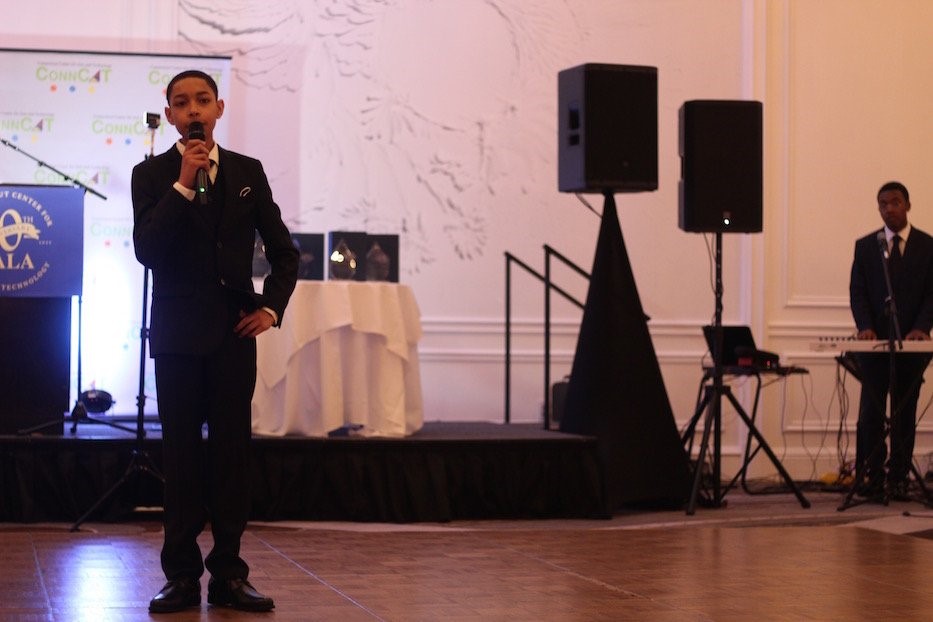 Edwards dedicated his performance to Clemons and Walker.
Back at her table afterwards, Nash said that ConnCAT has given her a chance to grow her love for arts and culture in a safe, supportive environment. After starting ConnCAT's after school program a year ago, "it's the feeling of being safe" that keeps her coming back. When she walks into ConnCAT's doors nearly each day, she feels like she's home. She shouted out a list of teachers that was nearly a dozen names long.
"I love that we have our own role models," she said. Before attending the program, she rarely saw actors who looked like her in t.v. and movies. If she did, they were the sidekicks or the villains—never the main characters.
Tristan Vines-Johnson, a student at Amistad Achievement First Middle School who performed as Ruby from Wilson's Seven Guitars, added that ConnCAT has boosted her happiness and self-confidence. After her mom heard about the program from Miss Mia's Day Care, it has become a fixture in her and her daughter's life. Sunday, she steadied a black beret on her head before she performed, beaming by the time she left the stage.
To applause and cheers, the performances kept coming from the floor of the ballroom. When longtime student Mekhi Banks announced that he would be attending the Berklee College of Music in the fall, it was enough to get the audience on its feet. When Christian Edwards dedicated his performance to Clemons and Walker, a series of cheers and whoops echoed through the room. When students Taniya Gattison and T'ari Thomas appeared, the audience watched every move. The two were in constant motion, flying across the floor as Beyoncé's "Be Alive" pumped from the speakers to fill the room.
And it came from Hobson and his mom Kim Jackson, who first discovered ConnCAT 10 years ago, when Hobson was in the fifth grade. Since the moment they found ConnCAT, the organization has become a family, Hobson said—from after-school cooking classes to a remote learning hub that kept students on top of their studies during the pandemic. Hobson is now a volunteer at St. Raphael's Hospital and a teacher's assistant at Nathan Hale School in the city's East Shore neighborhood.
He praised Clemons as an unexpected father figure, who "may not know how much his love and support has inspired me."
"Because of this program I have a village around me," he said, thanking every single teacher in the program. "They have helped shape who I am today."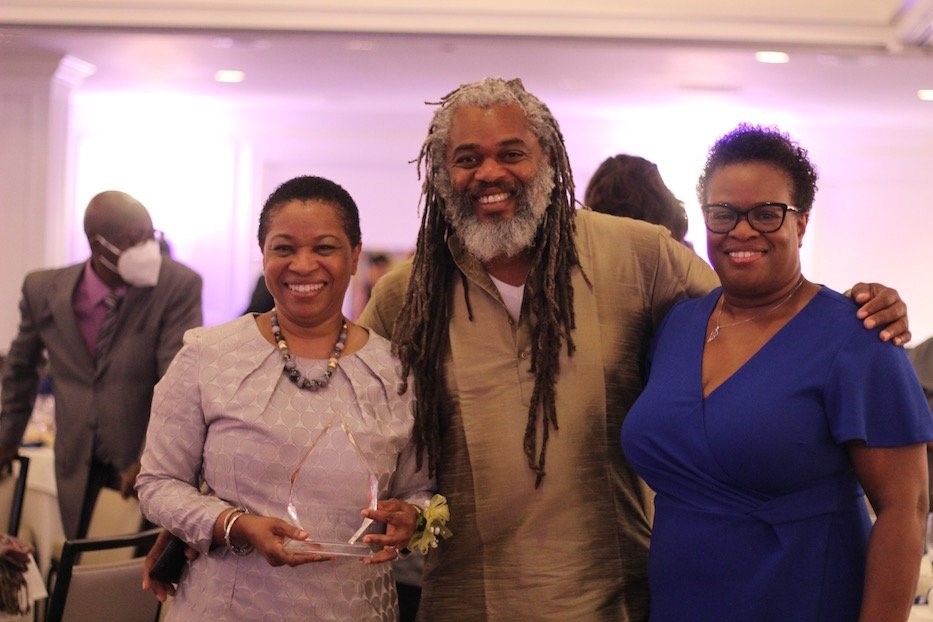 Senior Vice President/Chief Nursing OfficerEna Williams, who is the first Black woman ever to hold her position as Senior Vice President and Chief Nursing Officer at YNHH.
Throughout the night, Walker stressed how excited she is not just for ConnCAT's first decade, but for its next 10 years. Growing up as the child of two immigrants in the city's Fair Haven neighborhood—her parents are Cuban and Panamanian—Walker saw firsthand the sacrifices her parents made so that she and her three siblings could succeed.
As a kid, she watched as they took turns earning their college degrees, first her dad at South Central Community College (now Gateway Community College) and SCSU and then her mom. She knew how much grit it took in a city that sometimes felt like it was working against them. "I saw the work," she said. "I witnessed the climb."
Inspired by her parents' dedication, Walker became a Hamden Public Schools teacher for years. She loved her work, she said—but she heard a voice in her head urging her to do more. "You have a farther reach," it told her. For Walker, whose faith is as strong as her commitment to education, it became a charge from a higher power. She went on leave from the Hamden Public School district and walked into ConnCAT in 2012. She hasn't left that family since.
"I didn't have the skills, and I was given this incredible opportunity nonetheless because someone believed in me," she said. "There is nothing like this moment. How amazing this moment is. I believe that it's divine, the work that is happening."