Anthony Hill, Team Market Owner
Professional Basketball comes to Connecticut!
Welcome:
"The Connecticut Cobras"
Beginning next spring, Connecticut residents won't need to travel for professional basketball games, with a professional men's basketball team set to call the state its home for the first time in over two decades.
The Connecticut Cobras will be a part of "The Basketball League (TBL), a national professional basketball league, and has its schedule set to begin in March 2022" Cobras Team Market Owner Anthony Hill said. Hill is in prestigious company.
Former NBA players Steve Francis (Houston), Jerome Williams (Las Vegas) and Kendrick Perkins (Beaumont, Texas) also have ownership stakes in TBL franchises.
The team, founded and based out of Norwalk, was officially announced on July 21 by The Basketball League in a social media post. Norwalk was chosen due to its location and short distance from major cities, including Albany, New York, and Boston, according to the statement.
"Having a team that is close to others but is a stand-alone market is key," league CEO Evelyn Magley said. "We are confident that Anthony and his group understand our values and will bring a dynamic partner to this vital marketplace." It's worth noting that the Cobras are, at the time of this writing, the only Black owned professional sports franchise in its market. In fact, the TBL is providing opportunities for Black ownership of professional sports franchises all over the country.
The Basketball League, founded in 2018, is a 29-team league with an additional 19 teams set to join the league in 2022.
Hill, a Norwalk native, said he's been a fan of the professional league basketball organization since its inception, so when it announced plans to expand, Hill jumped at the opportunity to bring a professional basketball team to his home state.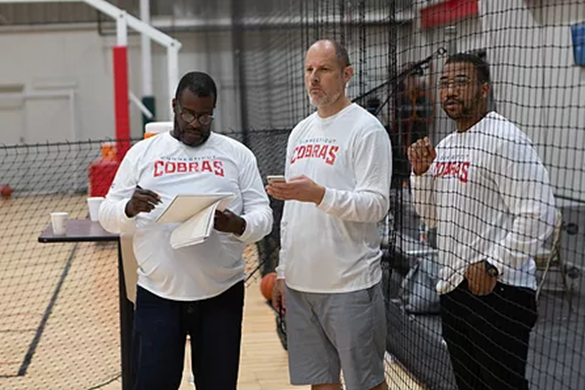 Director of Media Relations, Tone "Doc" Hardy / Director of Social Media Wendell Maxey / Director of Visual Media Kaz McDougald
Hill first reached out to The Basketball League around February and spent months planning the logistics of the team.
In becoming owner of the team, Hill was able to bring his son, Aaron, on board as co-owner. "It allowed my son to be a part of this as a kid," Hill said. "He's 17. I wanted him to experience ownership as we continued to have these conversations and the Connecticut Cobras were born."
With the Connecticut Cobras, Hill aims to bring professional men's basketball back to the state and encourage positive change in the community surrounding the team, not only in providing an outlet for young athletes, but hopefully partnering with local companies and hosting events.
"I wanted to give back to all the state, to be a part of this initiative," Hill said. "One thing that's important is to build community initiatives with the team, back to school functions, along with Stop the Violence initiatives."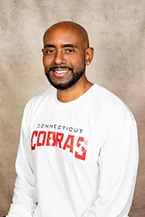 Head Basketball Coach, Troy Bradford
Taking the reins as the first head coach of the Connecticut Cobras of the Basketball League, Troy Bradford is making it one of his top priorities to prevent others from being overlooked.
"I'll be helping young men out that might have gotten overlooked because of their size by Division 1 schools like I was," Bradford said. "We have to make it easier on those kids, so they don't have to grind as hard as I did. We are hoping this will open doors for them (players) all over. What teams want to see are stats against grown men. What can you do against grown men?" Bradford said.
"The league is affiliated with both professional and international basketball," Hill said. "There have been a lot of guys who play in this league that are getting contracts to play overseas or in NBA spotlights. The opportunity to continue a professional career for our players and staff is a tremendous opportunity."
The players, who are considered professional athletes, understand that this is a showcase league, earning anywhere from $1,000 to $1,500 monthly, Hill said. The coaches will likewise be paid for their work.
The Cobras officially came together on the court for the first time when the organization held its first Player Tryout at Vale Sports Club in Middletown, Connecticut at the end of September. Over 30 players with experience ranging from overseas professionals, to former college and high school standout basketball players hit the court to take their shot at competing in The Basketball League for the 2022 season that tips-off in March. Players not only traveled from around Connecticut to attend the tryout, but also came from as far as Florida, Mississippi, and North Carolina for the opportunity to showcase their talents for the Cobras.
To assist him building this organization, Hill added Ed Battle as Team President, Tony "Doc" Hardy as President of Media Relations, Wendell Maxey as Director of Social Media, Martine Senecal as the Vice President of Player Development and Brand Management, Jay Rogers as Chief Operating Officer, Briana Brown as President of Business Operations, and a host of other talented members to complete the Cobras Staff.
When the Connecticut Cobras take to the court to start the 2022 The Basketball League (TBL) season next March, the men's professional basketball team will be competing at the Harvey Hubbell Gym on the University of Bridgeport for a series of home games the organization recently announced in October.
"We are extremely excited to partner with this prestigious university and staple in the community of Bridgeport, Connecticut for our home games," said Team Market Owner, Anthony Hill.
"Playing at the University of Bridgeport gives our team legitimacy as we enter our inaugural season in the TBL and allows a great location to continue building our fanbase with communities in Bridgeport and throughout Connecticut."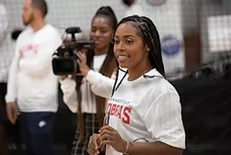 Executive Assistant to the TMO, Amanda Feurtado
Practice and training camp will be held at the Vale Sports Club in Middletown, Hill said.
"It's becoming a full-time project as we speak," Hill said. "It's going to coexist with regular day-to-day work. I'm definitely not approaching it as a part-time project."
Under Hill's direction, the Connecticut Cobras have also found a way to crossover from shining on the floor to building-up the organization thanks to several companies and brands around the state who have become official sponsors of the team for the 2022 TBL season. Most recently, the Cobras teamed-up with the American Cancer Society for a "Hoops For A Cause" charity event at Jerkyz in Stamford, where the team both raised donations and support during "Breast Cancer Awareness" month. While the Cobras are making it a priority to establish a winning culture as a franchise, it's equally important that they continue to "give back" through community outreach all year round.
Striking that win-win balance between victories on the court and in the community is key to a successful inaugural season in the TBL.
It's a big reason why the franchise adopted a "More Than Basketball" philosophy that morphed into a mantra and mindset over the past three months. After conducting a second Player Tryout at Chelsea Piers in Stamford that featured returning players from the first tryout and several professional basketball hopefuls anxious for the chance to suit-up for the Cobras, Head Coach Troy Bradford and the rest of the organization now shift their focus to opening Training Camp in preparation for preseason games in February.
For Anthony Hill and the front office, that's when the real work starts for the Connecticut Cobras.
Link:
https://www.connecticutcobras.com/