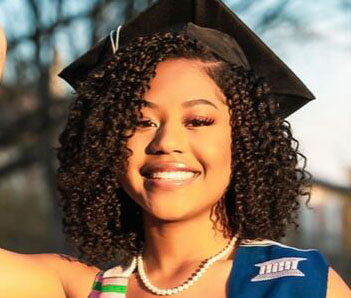 Meagan Hodge is a May 2022 graduate of Spelman College. Meagan graduated with a bachelor of science degree in mathematics and is currently participating in the Research in Industrial Projects for Students (RIPS) Program in Singapore during her #SpelmanSummer.
As one of four students from the U.S. and the only African American in the program, Meagan is showcasing all that she has gained at Spelman College as she works with three other participants in partnership with Procter & Gamble.
During her time at Spelman, she was a member of the Ethel Waddell Githii Honors Program, Alpha Lambda Delta Honors Society, Pi Mu Epsilon Mathematical Honors Society, and Morehouse College Cheer. She has participated in Spelman's Math Research and Mentoring Program as well as the Spelman/Morehouse Directed Reading Program in the Mathematics Department. Meagan served her community through the Mu Pi Chapter of Alpha Kappa Alpha Sorority Incorporated and tutored local high schoolers with Communities in Schools of Atlanta.
In the fall, Meagan will attend Wake Forest University to obtain a master's degree in mathematics. Learn more about her experience during today's takeover in our Instagram Story.