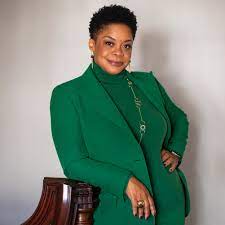 Crystal Williams believes that education, art and design, and commitments to equity and justice are essential to transforming our society. Williams has more than two decades of higher education experience. During that time, she has been an institutional catalyst, helping to envision, define and achieve greater outcomes for students, faculty and staff. As a faculty member, she has focused on advancing artistic inquiry and engagement. As a leader, her work has ensured that institutions are more effective, mission-aligned and diverse, equitable and inclusive.
As Boston University's inaugural vice president and associate provost for community and inclusion since 2020, Williams provided leadership, vision, management and strategic direction for initiatives that support the development of strong communities of faculty, staff and students, promoting diversity, equity and inclusion within BU's 17 schools and colleges. With a portfolio that includes BU's Provost's Arts Initiative, Organizational Development and Learning, the Newbury Center, which supports first-generation students, the LGBTQIA+ Faculty/Staff Center, Academic Living and Learning Centers, and BU Diversity & Inclusion, Williams worked collaboratively on efforts to nurture a positive campus climate, build the excellence of faculty and enhance the academic program.
Arriving at BU in 2017 as the institution's associate provost for diversity and inclusion, Williams led a number of critical initiatives including the University Scholars Program and Target of Opportunity Hiring Program, which both seek to impact faculty hiring culture; the Inclusive Pedagogy Initiative; the LGBTQIA+ Task Force; and the 2020 BU Day of Collective Engagement, which brought the university's community of faculty, staff and students together to reflect on the impact of race and racism on our society and communities. To foster a deeper sense of unity among individuals from underrepresented communities and their allies, Williams also oversaw the creation of employee resource groups at BU. In addition to her administrative roles at BU, Williams was a professor of English.
Prior to her work at Boston University, Williams held similarly catalytic roles at Bates College (2013–17) and Reed College (as a faculty leader from 2000–11 and as a dean from 2011–13). At Bates, Williams served as associate vice president for strategic initiatives, professor of English and senior advisor to the president, developing programs, strategies and measurable outcomes that enhanced diversity, equity and inclusiveness.
"I'm an advocate for the arts. I am an advocate for justice and equity and inclusion and have worked hard to help organizations align themselves to their stated principles—to actually get real about things."
At Reed, where she began her academic career as a professor of English, Williams became a faculty activist, working with colleagues to envision and create a more inclusive and diverse institution. Realizing the power of a liberal arts education to uniquely elevate and magnify the interconnections and interdependencies between ideas and solutions, she was appointed the college's inaugural dean for institutional diversity, directing multiple faculty-driven initiatives to create an infrastructure to support greater diversity and inclusion.
A deeply collaborative leader, she has helped to drive meaningful change in higher education through national roles and collaborations, including as a member of the Oversight Committee for the Sloan Foundation-funded STEM Faculty Leadership program; the Executive Committee for the Creating Connections Consortium (C3), an Andrew W. Mellon Foundation-funded consortium of liberal arts colleges and research universities (including Bates, Connecticut College, Middlebury, Williams, the University of California at Berkeley, the University of Chicago, Columbia University, and the University of Michigan); as co-chair of the Liberal Arts Diversity Officers; as a member of the steering committee for the Consortium for Faculty Diversity; and as a collaborator with senior members of the Mellon Northwest 5 Faculty Consortium.
An award-winning poet and essayist, Williams has published four collections of poems. She is the recipient of several artistic fellowships, grants and honors, including a fellowship from the MacDowell Arts Colony, an appointment as the Distinguished Visiting Professor of University Writing at DePauw University, a Master Poet residency at Indiana University, the Naomi Long Madgett Poetry Prize, a Literary Arts fellowship, an Oregon Arts Commission individual artist grant and a Barbara Deming/Money for Women artist grant, among others. Her work regularly appears in leading journals and magazines nationwide.
Williams' poem Elegy for Us, in response to Faith Ringgold's American People Series #20: Die, was commissioned by and is part of MoMA's Poetry Project, a tour of poems responding to pieces in the museum's permanent collection. Williams was also one of 10 poets commissioned by MoMA to write poems (Double Helix, Year After Year We Visited Alabama) as a part of the Jacob Lawrence Migration Series exhibition. In early 2016, Williams joined the president of the Ford Foundation in a conversation about Cultural Equity, which was a part of the Equity Series, a collaboration between the Schomburg Center for Research in Black Culture and MoMA. She has also served as moderator for multiple arts-related conversations, most recently a 2020 talk hosted by WBUR titled Black Boston: Transforming the Arts.
Williams is a thought leader on diversity in the arts and higher education, serving as a regular advisor to senior leaders, organizations and colleges across the nation on topics including leadership development, recruitment, retention, inclusive climate development and organizational capacity building. An ardent arts advocate, Williams regularly engages in leadership positions within the arts community and has served on multiple arts and humanities-related boards and selection panels, including as an Oregon Arts Commissioner, a board member for the Maine Humanities Council, Write Around Portland and The Interstate Firehouse Cultural Center; on the Oregon Poet Laureate Selection Committee; as a judge for the 2015 Donald Hall Poetry Prize, Regional Arts and Culture Council Literary Arts Fellowship, and the Oregon Arts Commission Individual Fellowship; on the Governor's Ad Hoc Committee to Reduce the Achievement Gap; and on the editorial board for The Writer's Chronicle.
The daughter of an educator and a musician, Williams was raised in Detroit, MI and Madrid, Spain and holds a BA from New York University and an MFA from Cornell University.