MS Frederica M. Williams!
I remember over 17 years ago attending a meeting at the Whitter Community Health Center in one of their conference rooms, I vividly recall as the meeting ended, she kindly walked over to me and introduced herself as Frederica Williams, never once mentioning her
title as President and CEO, just Frederica Williams and added it's nice to meet you!
It's with that type of warmth, humility along with a genuine care for humanity that
I am pleased to introduce to you MS. Frederica M. Williams who has served for over 22 years as the President and CEO of Whittier Community Health Center in Roxbury Massachusetts!
Something truly remarkable happened over 2 years ago, back in 2018! The Board of Directors at the Whittier Street Health Center were so moved and appreciative of the work and dedication by Frederica, that they unanimously decided, not asked, to rename the building "The Frederica M. Williams Building" in honor typically reserved for those who are no longer with us but trust me, Frederica is not only alive and well, but still lots of energy and gas in the tank!
Born in Freetown, the capital of Sierra Leone, Frederica M. Williams is from Creole (Krio) people, a melding of freed African-American, Jamaican and British freed slaves who with help from the British government settled in Sierra Leone after the American Revolutionary War.
She is the third child of Emeric A. Frederick Williams, former Deputy General Manager of Sierra Leone External Telecommunications and Matilda Effeh Williams, philanthropist, entrepreneur and an original fashionista, who instilled her values of caring for and helping others. Both parents were committed to imparting values of compassion, generosity, integrity and humility, Frederica remembers. Frederica commends her parents for building a strong foundation of hard work, faith, love and hope. Moving in faith and not in fear was ingrained in her DNA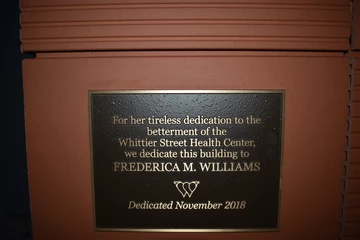 Frederica shares the story of growing up as a student in Freetown, Sierra Leone, her teachers at the Freetown Secondary School for Girls further impressed loyalty, respect for others and most importantly, her self-worth as a woman. She shared with me that in addition to her parents being her 1st set of mentors, she had to include her principal Cassandra Garber who with the all-female faculty, helped to shape her into the successful woman she is today! Daily prayer and school mantra extolled excellence and hard work, determination and compassion for others. As a young girl she was the first to stand up to bullies and protect others who could not protect themselves. This commitment to excellence and passion for service, love and social justice for vulnerable people has continued in her professional life and no doubt prepared her to effectively deal with the political and racial undertones in the City of Boston!
As the President and CEO of Whittier Street Health Care Center, she along with her team has transformed a basic community health care center into a neighborhood centerpiece and national model! Her keen vision has positioned Whittier as a leader in urban health care with a crucial focus on the importance of culturally competent healthcare and social services for diverse populations including immigrants and refugees.
Demographics Served:
Roxbury, Jamaica Plain, Dorchester, Mattapan, Roslindale, Mission Hill and Greater Boston!

42% identified as Black or African-American!

40% as Hispanic/Latino!

6% as White!

12% as Other!

35% are uninsured despite recent health care policy reforms!

81% live in public housing!

53% live below 200% of the poverty line!
The individuals and families they serve face a disproportionate risk of major diseases and health complications, including diabetes, cancer, cardiovascular disease, asthma, obesity, depression, and HIV/AIDS. They also bear the burden of neighborhood violence and limited access to fresh foods, safe green spaces, employment and educational opportunities and affordable housing.
How it's being addressed along with just a few accomplishments under her leadership:
Oversaw the construction of a $37 million dollar brand new building within 14 months and $640,000 under budget!

Over "40 Health Care Programs" and wellness services designed to meet the primary health care, behavioral health and social needs of the community.

Since 2015 the number of people served increased from 5,000 to 30,000!

More than 120,000 clinic visits and an additional 28,000 community outreach visits utilizing Whittier's Mobile Health Vans to serve the homeless and meet patients where they are!

2015 built its first "Permanent Medical Home" in its 85-year history serving Boston residents!

Accredited by the Joint Commission and recognized by the NCQA as a Level 3 (highest level) Patient Centered Medical Home.

2015 opened a "State-of-the-art Wellness Institute, Fitness Center and Community Garden"!

2017 opened a "Satellite Clinic and full Pharmacy" on Blue Hill Ave., in Roxbury!

2018 open a "Food Pantry" to address rampant food insecurity in the community.

2018 introduced a "Mobile Health Van" to provide services to the homeless!
The countless awards and recognition are the who's who of Boston and beyond, along with her brilliant education at the London School of Accountancy, Graduate Program (CSS) at the Harvard University Extension School, and a Master of Business Administration from the Anna Maria College all demonstrates how and why she has been able to accomplish so much!
2008 "Women's' Business Magazine" top 10 Heroes

2009 "Exceptional Women in Health Care Award"

2010 "Massachusetts League of Community Health Center's Outstanding Massachusetts Health Center Executive Director Award"

2010 "Boston Business Journal Health Champion Award for Community Outreach"

2011 "The Pinnacle Award from the Boston Chamber of Commerce"

2011 "US White House Communications Agency" for her exceptional community service.

2015 Boston Business Journal's Women Up Award for Women in Leadership positions

2015 Boston Business Journal's Power 50 Award

2016 Boston Business Journal's Power 50 Game Changers

2014-2020 "Boston Globe named Whittier one of the top 100 Women Led Businesses in Massachusetts."

2020 Harvard University Extension School Dean Shinagel's Award For Service to Others
The story of how Whittier Street Health Center has been shaped by Ms. Williams is a shining example of how one person with tenacity, passion and determination to do good can do so, against many odds, achieve an astounding result and provide health benefits that Boston's underserved communities will be reaping for generations to come!
Frederica shared with me her love of travelling around the world and her love of dancing and music, but made it very clear that her faith and family comes first!
When you see Frederica around town and the City of Boston, be sure to thank her for her tireless work and being recognized as an "Ethnic GEM"!